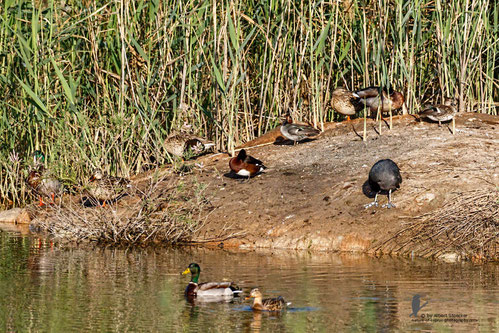 At my last visit on March 12 together with Paul Foster from England we met many through migratory birds in the water and on land in the area of Zakaki Marsh and Lady's Miles.
When we arrived on Zakaki Pool at 6:00 four grey herons and five little egrets flying of from the pond, in the pound still five ferruginous ducks with some Mallard, Coots, grouse, and Little Grebe in the water. Later then we see also a young Flamingo was added, who has an injury to the leg and uses the small island in the pool as a resting place.
In the reeds, 3 Penduline Tit, a Cetti's Warbler and2 Sedge Warbler we see, in the air over the reed one handsome number of Common and pallid swift, Red-breasted swallows and barn swallows flying around. On the other side of the road one Bluethroat and one green Sandpiper walking around.
---
 In another small pool in the harbor area, we have later discovered a further juvenile Flamingo, a black-tailed Godwit and 5 Redshank. Particularly pleased we have seen also a rare Rüppells Warbler (male), who was there in the bushes. In the Marsh, behind the old Zakaki Stadium we found 3 Hoopoe, along the ladies were miles road we see many little ringed Plover and Kentish Plover in the pools.
---