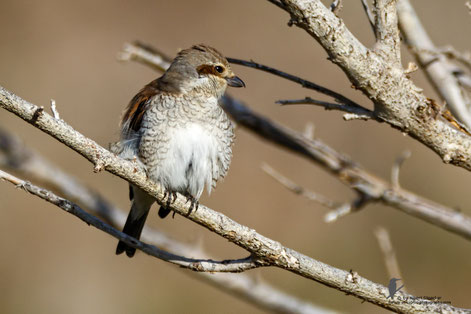 A small tree in the spacious Anarita Barrens is the focal point for many itinerant birds.

Some birds place only a short rest in the tree. Others use the tree as a ideal location to forage in their habitat.
Under the tree, the ideal nesting place for the breeding business is with some Oleander bushes.
So there just a few Cetti's Warbler and two pairs of the Sardinian Warbler in the breeding business stay.
---
During I was observed the Warblers a female Red-backed Shrike in the tree at the same time over 2 hours. Almost every access on insects on the ground and in the bushes was successful, there are Gashoppers and other Insects in the dry grass just in abundance.
---
and here a short Video with this Shrike
Please select "Full HD 1080" on YouTube Settings for the best Quality.
---