---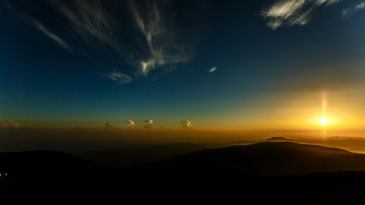 Sonnenaufgang am Mount Olympos - Troodos
The most interesting variant for me are time-lapse shots that include "from night to day with sunrise" or "from day to night, with sunset". This recording technique then includes the so-called "Holy Grail" of time-lapse photography, which can be implemented almost perfectly in post-processing with appropriate software such as "LRTimelapse".

Below you will find a description for the planning and execution of a project with my preliminary planning and the execution of a Holy Grail time lapse, taken on Mount Olympos in the Troodos Mountains, the highest point of the island of Cyprus, at 1,950 m above sea level.
---
Until recently, I used the Samyang 14mm f2.8 wide angle lens for night shots. This lens is one of the most used, bright ultra wide-angle lenses for starry sky, Milky Way and time-lapse shots at night.

The lens works completely mechanically and is characterized by a good sharpness over the entire lens focal length and also with hardly any chroma errors. By the way, it is also a very price-effective objketiv, which in this field of application depends on many expensive focal lengths in more than just the price difference. Since technical intricacies such as autofocus and image stabilizer are usually switched off in night photography and time-lapse photography to avoid interference, the Samyang Ultra wide angle can focus on the essential focus.

In the meantime I have the new Sigma 24mm f1.4 ART, L-Mount for my Panasonic cameras. The even brighter WW lens of the ART series brings even more details to the 47 MB sensor of the Panasonic S1R when shooting at night like milky. Examples very much to her in the Timelapse Gallery.

The Panasonic S 24-105 mm f4 / Macro OIS, an excellent all-rounder for photography and video recording, is also used for time-lapse shots in daylight. in conjunction with the camera internal IBIS, an image stabilization of 6.5 aperture levels is achieved. Video recordings from the hand can thus be realized very reliably.

Another hint about the maximum exposure time in star photography. The maximum exposure times prevent the line formation of the stars, which do not remain in one place due to the Earth's rotation for the camera. The maimal exposure time can be determined by a rule of thumb simply by means of a rule of thumb:

For full-frame sensor cameras, the fist formula 500 / focal length = maximum exposure time, e.g. 500 / 24mm = 20 seconds applies.
For Crop Sensor 1,,6x cameras, the Formula 300 / Focal Length = Maximum Exposure Time, e.g. 300 / 24mm = 12.5 seconds applies.

If you work with a mechanical ultra-wide angle lens, such as the Samyang 14mm f2.8, you should first check the infinity setting on the lens and possibly also mark it so that the sharpness point fits optimally.
This is then very helpful in the night shots, to safely adjust the sharpness setting point in the dark.

More and more cameras also offer an internal interval mode, unfortunately the 180° shutter rule for video recording is often not taken into account. In contrast, the Panasonic full-frame cameras DC-S1 and DC-S1R camera offer internal modules for time-lapse recording including exposure optimization at day transitions, i.e. the Holy Grail.

Time lapse with the full format camera Panasonic DC-S1 / DC-S1R:

    1. Set camera adjustment wheel to time transformer
    2nd Mode - Time-lapse recording, camera mode RAW recording mode M,A,S,P, at M ISO automatic must be turned on
    3. Start time "Immediately"
    4. Picture counter - e.g. 600
    5. Recording interval - e.g. 0m25s
    6. Exposure Adjustment: ON

    7. Mode M, set exposure time, set aperture, ISO to automatic
    8. Mode A, Aperture setting, Exposure time Automaitic, ISO Automatic
    9. Mode S, Set exposure time, Automatic aperture, ISO Automatic
    10. Fully automatic camera selects all settings automatically, but only works for JPEG recordings

I limit the ISO settings to max ISO 200 in the camera to minimize noise.
The aperture is open when shooting at night on my new Sigma 24mm f/1.4 HSM L-mount, the f/2.8 and f/4.0 lenses.
In the sample recordings I vary the exposure time from 25, 20, 15, 10 seconds / ISO 1600, 2000, 2500.
After each sample recording, I check the histogram in order not to trigger, especially in the left black area.
When everything fits, I start the recording cycle with the cable trigger that triggers the preset interval in the camera.

Since I now work with Panasonic cameras DC-S1 and DC-S1R, I use the time-traffer function integrated in the cameras, in which a Holy Grail function with exposure optimization is integrated. Test shots of me and also of Professionelne time-lapse filmmakers show that this Holy Grail function of Panasonic works very well.
---