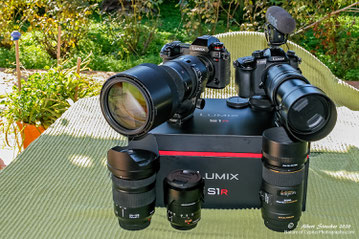 Panasonic will replace my Canon Equipment at the turn of the year.

Unfortunately, the first mirrorless full-frame camera from Canon EOS R has never delivered the one I had learned since it was purchased in October 2018. Neither in the severely restricted video area nor in the photo area could the EOS R provide the performance of the previously used EOS 5D Mark IV.

In the meantime, Canon has already announced a successor model for the EOS R (after 1 year) instead of upgrading the camera in terms of performance. If you don't want to miss the technical advances that other camera manufacturers have been offering for a long time, a further investment is definitely imminent.
But now in the DSLR - DSLM area you no longer depend on Canon and so I sold my complete Canon equipment and made a system change, towards Panasonic.
For 2 years I have been using the high quality Panasonic GH5 (mft) for my video work to my highest satisfaction. So I was informed about the new Panasonic Lumix DC-S1R with 47 MB sensor, IBIS, full format camera with L-mount bayonet and tested the camera. On the basis of my tests, also regarding camera handling, the Pana S1R then bought to cover the photo area.

Until now, I have also used my Canon lenses at the GH5 for the video area, which I connected via a Metabones Ultra adapter. Now I use the native Panasonic lenses on the Lumix GH5 to take full advantage of all the technical possibilities of the camera lens connections. This is also about the fantastic cooperation of the internal 5-axis mounted image sensor - stabilizer with the stabilizers of the lenses. The Leica DG 100-400mm (KB = 200-800mm) f/4-6.3 OIS and Leica DG 12-60mm (KB 24-120mm) f/2.8-4 OIS have now been added for video use.

For the full format camera DC-S1R is the new L-mount lens Lumix S 24-105 f/4 OIS and the Sigma adapter MC 21 L-mount in my photo bag. All Canon EF-Mount external lenses can be connected to the Sigma MC 21 adapter. So I use the Sigma EF-Mount 150-600mm f/5-6.3 DG OS HSM Contemporary for bird photography.

Further Sigma lenses of the ART series are already offered with L-mount and promise best recording quality. I will report on this on occasion.