Difficult times are these with the Corona Virus for everyone, even here on the island of Cyprus, much is no longer going its usual way.
So I have also greatly reduced my trips to the various hotspots for migratory birds. Tourists and photographers as guests have no or very limited access to the island at the moment. The entire BirdLife Cyprus crew has been working with each other from home via telephone and video since 16 March.
But regardless of the limitations of the Corona virus, life in nature continues and with it the migration of migratory birds. I would like to tell you something about this.


Last week on March 16th I shortened the very high grass around our fig tree in the garden, it is time for the spring guests and migratory birds to come. For this purpose, I set up a camouflage tent for the light in the morning and a second for the light in the late afternoon at a distance of about 10 m to the fig tree. The fig tree is ideal as a residence, because the figs and leaves form fully in the next 4-6 weeks, now it is bare and in mid-April I don't see the tree anymore.

On Tuesday, March 17th, after my Dog Walking Round (2 km from 6-7 o'clock) I went to the camouflage tent with a jug of coffee, i just wanted to watch if something was already happening out there at the fig tree. The usual suspects, sparrows, pigeons, tree pigeons, monk grass mosquito and Zilpzalp came to the watering place, which has existed for years, for drinking and bathing. But no one stayed there for a long time, everyone flew back to the surrounding fields and plantations.

And then suddenly there was a very loud noise, the call came from behind from the olive trees, now I can only hope that the screaming neck also comes forward to the fig bam, vileicht to the water.

Anyone who has ever heard a heanie cuckoo knows what I'm talking about. Yes, that's how the stories begin and the nature photographer is back in his element.
---
Great Spotted Cuckoo, Clamator glandarius, 17. 03. 2020
Panasonic DC-S1R + Leica DG Vario ELMAR 100-400 f/4-6.3 ASPH OIS, 1/1250, f9, ISO 1000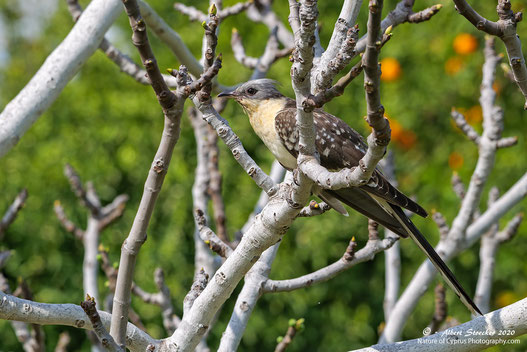 Great Spotted Cuckoo, Clamator glandarius, 17. 03. 2020
Panasonic DC-S1R + Leica DG Vario ELMAR 100-400 f/4-6.3 ASPH OIS, 1/1250, f9, ISO 1000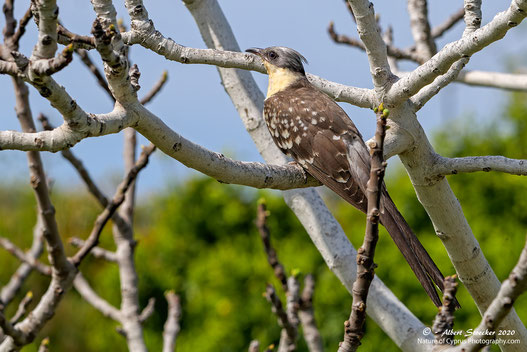 Great Spotted Cuckoo, Clamator glandarius, 17. 03. 2020
Panasonic DC-S1R + Leica DG Vario ELMAR 100-400 f/4-6.3 ASPH OIS, 1/1250, f9, ISO 1000
---