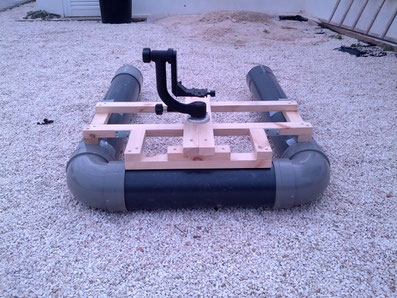 It was a challenge and a big wish of mine to make Photos and Video recordings of waterfowl in the eye to eye level.
Today, after 3 Years I have spend many hours in the Pools and watch the waterfolw and other interessting acticitys in my Hide.
Somtimes , when a Kingfisher sitting on Top, this are just great Moments for me.

My floating cover Hide place to build a secure basis for the expensive equipment is with a load of 25 kg. 
See in my report on this as I have implemented it.
---
I've attached below file the drawing for the construction of the floating tarnzeltes with the material list as a PDF download.  Those who are interested can make like this, I must point out however that anyone who builds up the raft, makes this at your own risk.
In the photo gallery I included images of individual components and stages of construction. And now have fun with tinkering and more shooting.
Script for "floating Hide"
Projekt 2013 Floating Hide 1 english.pdf
Adobe Acrobat Dokument
43.7 KB
---