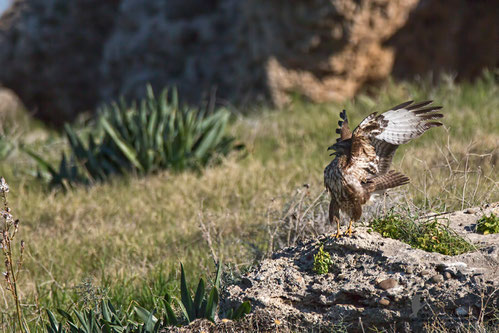 I discovered the Buzzard in the morning on the small hill behind the picnic place at Mandria Beach, right on the rock, where the resident Kestrel likes to stay.
The Kestrel were on their turf on hunting on the move and so the Buzzard on the rock could be an undisturbed down let.
First of all, I had a bad lens position, so that I could make any pictures. I left the car to get on the light side, but already opening the door brought him to the departure.
However, he flew only about 50m further to the picnic place to sit on the tree. I then watched him and noticed that he observed an Dog walker with free-running dogs (like manything strictly forbidden) on the path along the beach, but not flew away.
---
So I'm in a roundabout way drive back on the Beach path to get on the light side, hardly I had arrived at this location he flew back to the rock. 
But there, he has then spent the next 2 hours until the Kestrels expelled him with several attacks by their place. I had taken the only possible position and then recorded my photos and footage sequenzes from the car.
---
here my Video with the Common Buzzard at Mandria
Please select "Full HD 1080" on YouTube Settings for the best Quality.
---